If you would like to buy one of our Limited Edition t-shirts, then please read on….
On Nov 25th it will be 20 years since the hacienda was sold off at auction in a warehouse in central Manchester. Some of you reading this may have been to the auction and bought a brick, some floor or even a toilet (I couldn't afford one of the toilets at the time)
the film
You may even have seen the film that we made about it, do you own the dancefloor?
– If you haven't, here is the trailer for it: link
– You can buy the film (profits to Cancer Research) from Piccadilly Records here: link
the designer
To celebrate the anniversary we've been working with Ben Kelly who designed the iconic hacienda nightclub & Ben very kindly has designed an amazing t-shirt for us, based on his designs of the hacienda dancefloor.
limited edition
We are selling 51 of them, each of which comes with a tag attached to the t-shirt which will be signed by Ben himself. These t-shirts will be priced at £25 each plus postage.
Once these t-shirts are gone we will make the decision whether we make any more or not, but if we do, they won't come with a signed tag.

what do they look like?
See below….the t-shirts won't have my twitter handle printed on them…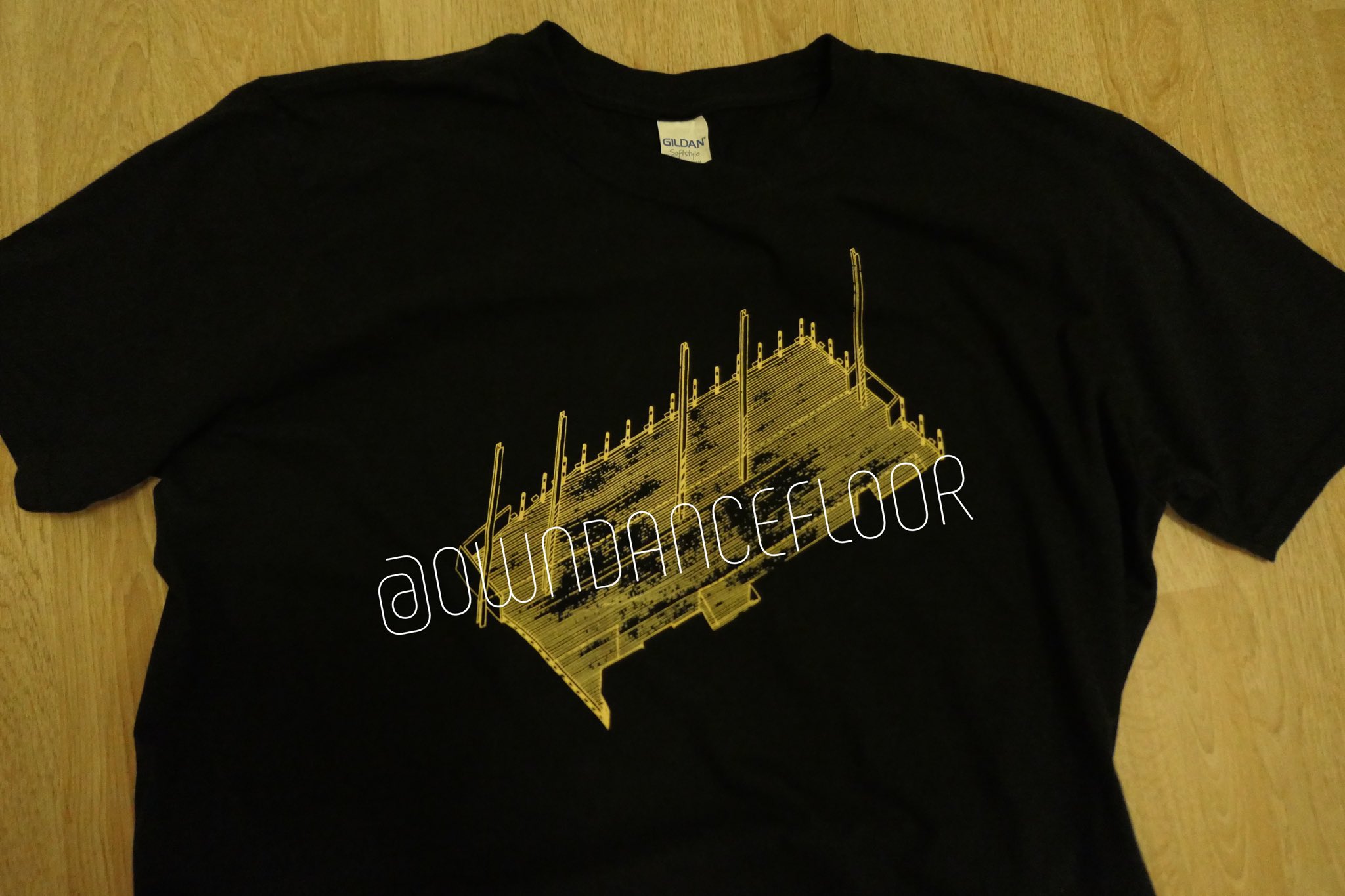 how do you order them?
– Please send me a dm/private message letting me know what size you would like (s, m, l, xl)
– I'm limiting orders for now to a max of 1 t-shirt each
– All t-shirts will be unisex style (drop me a note before you buy one if you don't know
what that means)
– Please allow until Oct 17th for me to get back to you to let you know if we have enough t-shirts left to fulfill your order, if we do I'll then provide details for you to pay via paypal
– Due to current Covid restrictions, I won't be able to accept returns of the t-shirt if it's the wrong size, so please don't buy one if you are not happy with this arrangement.
When will I be posting out the t-shirts?
– If you're successful you'll have your t-shirt by the date of the anniversary of the hacienda auction, Nov 25th.
Thanks for your interest.